Classic C600 Multipoint IEWH


The C600 is a significant model from BENNINGTON's first Classic "C" Series of   instantaneous electric water heaters, which was introduced in 2002. This particular multipoint model represents the culmination of over two years of dedicated work, from the conceptualization phase to its production.

The C600 stands out due to its multi-outlet connection feature, which was forward looking then when the market was still dominated by conventional Single Point IEWHs. Its impressive features, making it highly durable, functional, and cost-effective compared to other shower heaters available in the market. Notably, it was the first model in the region to incorporate highly reliable German "Pressure Differential Flow Switch" technology, which enhances its performance.
Over the course of its existence, the C600 has undergone multiple upgrades, ensuring it remains up to date with the latest technological advancements. Even after two decades since its launch, it continues to be in high demand, highlighting its reliability and desirability among consumers.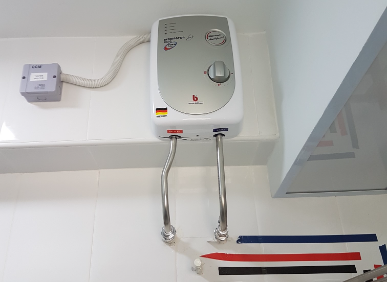 Typical HDB BTO's flat installation

Typical concealed installation above false ceiling without removal of faulty electric storage water heater