Sensation S630M Multipoint IEWH


Simplicity meets style. Our retro S630M seamlessly fits modern bathrooms. Featuring our patented MMTA-100 tank assembly, it's the greener choice with savings on electricity and water, all while delivering top-notch performance.

The S630M is the workhorse multipoint model of the Sensation "S" series by BENNINGTON. It is a visually appealing retro-designed line of water heaters that seamlessly complements modern bathroom aesthetics. However, its true value lies beyond its exterior, as this series incorporates cutting-edge features that can pleasantly surprise users.
One notable feature of the "S" series is the inclusion of BENNINGTON's patented MMTA-100 tank assembly. This tank assembly utilizes a specially designed glass-filled nylon material, which offers exceptional insulation properties. This advanced insulation helps to minimize heat loss, resulting in hotter water output while maintaining optimal performance and power efficiency.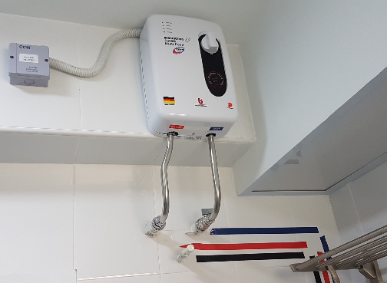 Typical HDB BTO's flat installation

Typical concealed installation above false ceiling without removal of faulty electric storage water heater